Professor Robert Wallace to publish two books this year
April 15, 2015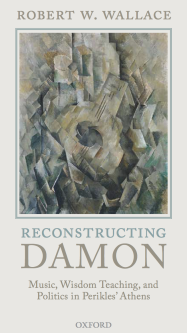 Department of Classics professor Robert Wallace has two books forthcoming in 2015. Reconstructing Damon. Music, Wisdom Teaching, and Politics in Perikles' Athens, estimated to arrive in September from Oxford University Press, "[p]

rovides the first comprehensive study of the most important theorist of music and poetic meter in ancient Athens." Wallace

 also contributed to Aristotle's Constitution of the Athenians, translated into modern Greek by Chloe Balla, with a preface and commentary by R. W. Wallace, forthcoming (Athens 2015) from the publisher Νήσος, and funded by the Stavros Niarchos Foundation.