First Year Focus
What is Classics and why study it?
Classics comprises the multidisciplinary study of the language, literature, history, and cultures of ancient Greece and Rome and their transformations in other cultures from late antiquity to the present day.  As a discipline it explores the earliest and arguably most far-reaching example of the globalization of culture with a varied and complex set of research tools.
Classics at Northwestern offers a new model of classical studies for the 21st century. We offer a range of beginner to advanced courses, all of which provide stimulating and demanding material and develop skills in writing, critical analysis, and the exploration of other cultures. Beyond coursework, we place great emphasis on research skills in seminars and research opportunities, making Classics very active in the university-wide initiative to enrich undergraduate experience in research.
Our faculty  include a lively group of multidisciplinary scholars with broad interests who are engaged in a variety of research and teaching projects about Greek and Roman antiquity.  They work together to provide a strong, imaginative curriculum, including excellent training in both Greek and Latin. We partner with faculty from the departments of theater and drama, philosophy, writing arts, comparative literary studies, art history, German, English, anthropology, political theory, medieval studies, communication studies, and medical ethics to place our understanding of antiquity in provocative juxtaposition with contemporary sources and issues.
Our students are intellectually ambitious. They enjoy small classes, strong guidance by faculty, and support for research and extra-curricular activities. Classics is a demanding and distinctive course of study that stresses the development of some exceedingly important intellectual sensibilities: close reading, analytical clarity, thorough research, evaluation of evidence, logical analysis, effective writing, and appreciation of historical change and cultural differences. All are skills that will serve you in whatever field you choose.
WHAT CAN I DO WITH CLASSICS?
Our students are well prepared to succeed after college. Training in Classics plays a vital role in many professional trajectories after Northwestern.  We are delighted when our students continue professional studies in Classics after graduation, but we are just as delighted to hear from alumni now engaged in studying law or medicine—or working for a clean energy consultancy, engaging in client diplomacy for an investment management company, or pursuing an advanced degree in art history, computer science, or paleontology. 
GETTING STARTED IN CLASSICS
Whether you have studied Latin for many years or have no background in Latin or Ancient Greek, and even if you do not plan to study either language, we offer a variety of major and minor pathways that provide an option for every preference.
The major requirements allow for some flexibility.  Students majoring in Classics may choose among three tracks: a concentration in Greek only, Latin only, or both Latin and Greek.  All students must achieve a good knowledge of one ancient language, Greek or Latin, so as to work with primary sources in the original language. Some may choose to work in both languages.
 All Classics majors develop familiarity with the broad sweep of ancient history and literature and key analytical skills necessary to examine the record of Greek and Roman culture. The development of research skills is a key feature of the major.  Every student completes a "Research Seminar for Majors" and eligible students are encouraged to write a senior thesis and earn honors in Classics. 
The minor also offers three tracks: Latin, Greek, or Classical Studies. Each allows students to survey aspects of classical culture and classical traditions, or to take a more focused course of study such as ancient philosophy, Greek or Latin literature, ancient drama and modern performance, politics in the ancient world, classical literature in translation, or Roman History, or they may choose to freely explore aspects of Greek and Roman culture as part of a strong undergraduate liberal arts education. The minor in Classical Studies has no required ancient language component and is open to Northwestern undergraduates from all schools.
WHAT ARE SOME GOOD CLASSES FOR FRESHMEN?
200-level courses have no language requirement and are appropriate for freshmen.  All of them can be counted towards the Classics majors and minors, and they can also be used to satisfy distribution requirements in various areas.

 Classics 210 – The World of Homer
Classics 211 – Greek History and Culture: From Homer to Alexander the Great
Classics 212 – Rome: Culture and Empire
Classics 250 – Literatures of the Ancient World
Classics 260 – Classical Mythology
Students may soon be ready for 300-level courses, many of which also satisfy distribution requirements and usually do not have prerequisites.
Classics 320 – Greek and Roman History
Classics 330 – Ancient Economy
Classics 340 -- Greek and Roman Drama
Classics 350 – Greek and Latin Literature
Classics 360 – Origins of Greek Democracy
Classics 370 -- Greek and Roman Religion
Classics 390 – Topics in Greco-Roman Civilization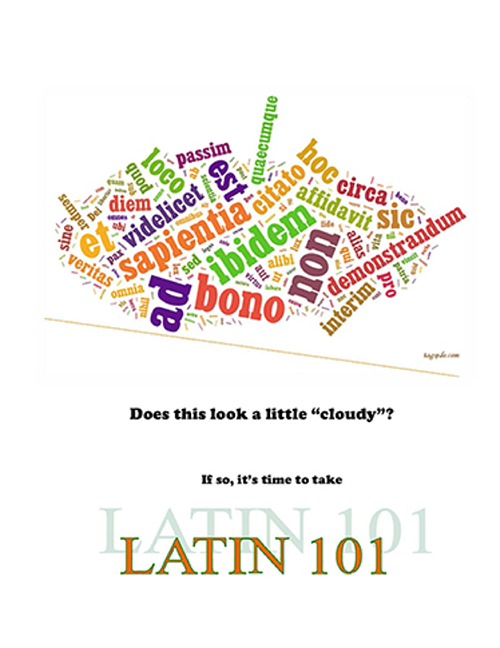 TAKE A LATIN OR GREEK COURSE
If you studied Latin or Greek in high school, you should take the placement exam or present AP credits (see details below) and continue with us at the appropriate level.  Or you can start fresh with Latin 101-1 beginning in the fall, or Greek 115-1 beginning in the winter.  You can fulfill your foreign language proficiency requirement with either language.
LANGUAGE STUDY IN GREEK AND LATIN
The Latin Program
The Latin Program includes three levels of language instruction. Our introductory courses 1,2,3 to be taken in sequence) provide a basic introduction to the language and culture of the Roman world.
 The goal of our intermediate courses (Latin 201-1,2,3 to be taken in sequence) is the development of proficiency in reading Latin through the introduction of the students to major works of Latin literature (Caesar, Petronius, Vergil, Catullus).
Advanced Latin courses (Latin 310) are independent units on individual Latin authors (Horace, Vergil, Tacitus, Plautus, Cicero, etc.) or literary genres (Roman satire, novel, comedy, elegiac poetry, etc.) and can be taken in any order.
The Study of Ancient Greek
 Starting in winter, elementary Greek (Greek 115-1 and 115-2) is a two-quarter sequence that introduces students to all of the grammar and vocabulary needed to begin reading actual ancient texts. In addition to mastering grammar, students learn about ancient Greek culture and history, and read passages of Greek literature from Homer, Sappho and the New Testament.
The intermediate Greek series (Greek 201-1, -2, -3), introduces students to major genres and authors of Greek literature. The first quarter is devoted to readings from the New Testament, the second to classical prose, particularly Plato, and in the third quarter students read Homer's Iliad in the original Greek.
Advanced Greek courses (Greek 301) are independent units on individual Greek authors (Herodotus, Homer, Aeschylus, etc.) or literary genres and can be taken in any order.
LANGUAGE PLACEMENT AND AP CREDITS

Placement in Latin
IMPORTANT -- Without specific written permission of the Classics Department, you may not enroll in a class at a lower level than the one in which you were placed; should you do so, you will not be given credit for the course.
If you took the AP Latin exam in high school, you should follow the appropriate option below:
If you have a score of 5 on the AP Latin exam, you have satisfied the proficiency requirement and we encourage you to continue the study of Latin at Northwestern. To enroll in 300-level Latin courses you should contact the Director of Latin Instruction, Prof. Francesca Tataranni (f-tataranni@northwestern.edu)
If you have a score of 4 on the AP Latin exam, you should not take the online placement test. With a score of 4, you will need one more course (Latin 201-3, offered in Spring quarter only) to satisfy the language proficiency requirement.
If you scored a 3 or lower on the AP Latin exam, you must take the online Latin placement test (see instructions below).
  If you have had previous study in Latin, but did not take the AP Latin exam, you must take the on-line Latin placement test  (see instructions below in #3).
Online Latin Placement Exam.  It is expected that you take the exam before arriving on campus in the fall. The exam is given only online at Online Language Placement Tests website.
If you take the placement exam before September 10, you will receive your results before Wildcat Welcome. You can find your exam results posted at the Online Language Placement Tests Results page.
Placement in Ancient Greek
If you have previous study in Ancient Greek, please arrange for placement by contacting the Director of Greek Instruction, Prof. Ryan Platte (ryan.platte@northwestern.edu).
STUDY ABROAD OPPORTUNITIES
Classics majors may take advantage of some extraordinary opportunities for study abroad.  Many of our students participate in the affiliated program at the Intercollegiate Center for Classical Studies in Rome or in Athens at the Arcadia Center for Hellenic Studies. Another option is the new Athens: Ancient Culture and Modern City program, which runs in the summer. Classroom work is accompanied by visits to sites and excavations, museum tours and lectures, and field trips to various parts of Italy or Greece, respectively.

Other recommended, but not affiliated, programs are the Paideia's Living Latin in Rome Summer Program and the summer sessions of the American School of Classical Studies at Athens. 

EXTRACURRICULAR ACTIVITIES

 The Classics department has a long record of planning intellectual and social events for undergraduate students and introducing them to Chicago's cultural resources, by organizing trips to theatrical performances and museum exhibits with classical orientations. Recent on-campus extracurricular events with a classical slant have engaged significant interest, extending well beyond undergraduates with Classics majors or minors.  These include the Homerathon, an all-night reading of the Iliad on the lake; a performance of Socrates' Apology by actor-director Yannis Simonides; and a screening of Chi-Raq followed by a discussion with Spike Lee.  For a list of past and current events, please visit our undergraduate Extracurricular Activities and Events page.

The Classics Undergraduate Advisory Board also plans events of its own and is comprised of passionate Classics students committed to fostering a dynamic undergraduate culture in the department. Their recent events have included a movie showing and a trivia night. Interested students are encouraged to enquire about joining.

FOR MORE INFORMATION

For major and minor requirements and lots of information about what we can offer you, please take a look at the entire Classics Department website.
Back to top