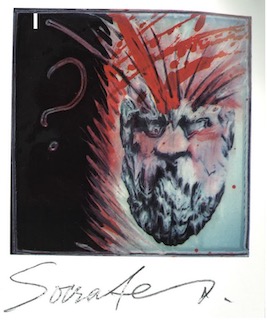 First Year Focus
WHAT IS CLASSICS?
Faculty and students in the Department of Classics study the cultures of Ancient Greece and Rome. The discipline utilizes various research methods to investigate the full range of physical and literary evidence and thus dives into history, literature, language, art, science, archaeology, philosophy (and more!) to develop as complete a picture as possible of these complex societies. We also investigate the diverse ways in which later ages across the globe engage with the classical past.
WHY STUDY IT?
Because it enables life-long access to a fascinating body of material and knowledge that has long been the subject of contested, lively discussion and appropriation in many other areas of endeavor. The major and minor will require developing serious—and transferable—intellectual skills and cultural sensitivities. It will engage you in deep appreciation of the accomplishments and limitations of Greece and Rome, as well as what it means to reason from evidence in the humanities.   Looking for interesting electives and courses suitable for the Weinberg College foundational disciplines and overlays requirements? You will find Classics welcoming. You can find a course that explicitly dovetails with your professional interests (e.g., economics, medicine, politics, art) or one that intrigues you for other reasons (e.g., Pompeii, Homer, astronomy, magic, tragic and comic drama). You can also find attention to critical topics such as gender, race, and diasporic studies and the modern reception of classical sources in various contexts, including the Hispanic world and Chicago's built environment.

 



WHAT CAN YOU DO WITH THE MAJOR & MINOR? 
The Classics major and minor are demanding courses of study that are very well-respected by graduate schools and employers in a wide range of fields. In recent years, our alumni have gone on to highly competitive graduate programs and employment opportunities not only in classics and archaeology but also in physics, medicine, law, computer science, information sciences, paleontology, environmental sciences, financial consulting, secondary education, and more. 
Classics majors and minors often include students who are pre-medicine or pre-law, as well as students pursuing double majors. Our students share a concern to secure a wide-ranging undergraduate experience. Our double majors have combined classics with fields as diverse as physics, math, anthropology, and political science.
GOOD CLASSES FOR FIRST-YEAR STUDENTS
Keep in mind: 
Our department offers courses that are listed under three catalog designations:  
Classics, Greek, and Latin. Classics courses rely on sources in translation. 
Fall 2023 Classics classes recommended for all first-year students:
CLA 211 Greek History and Culture from Homer to Alexander the Great
May be used towards a foundational discipline requirement area

.
(Historical Studies or Literature and Art)
The instructor is Professor Nick Winters. 
May be used towards a foundational discipline requirement area

.
(Historical Studies or Literature and Art)
Note that Classics courses at the 300‑level do not have formal prerequisites, so students can take them if ready.  Please consult the instructor. Full list of all 2023-24 Classics courses.
Fall 2023 Greek and Latin classes for first-year students: 
Keep in mind:
Greek and Latin language courses at the 100- and 200‑levels must be taken in the proper sequence and according to placement results. 300-level language courses are stand-alone seminars on authors, specific texts or genres, and inscriptions. They can be taken in any sequence. Enrollment as a first-year student in 300-level Greek or Latin requires permission from the instructor. Placement Information and Instructions. 
Start beginning Latin by enrolling in LAT 101-1 Elementary Latin. The instructor is Professor Francesca Tataranni. She is a 2009 winner of a Weinberg College Alumni Teaching Award, has been elected to the Associated Student Government (ASG) Faculty Honor Roll numerous times, and has received the 2017 Charles Deering McCormick Distinguished University Professor of Instruction Award. 
Continue with Latin by enrolling in LAT 201-1 Introduction to Latin Literature: Petronius and Cicero if this is your placement result.  The instructor is Lecturer Graziela Byros. She has been elected to the ASG Faculty Honor Roll multiple times. 
Continue with Latin by enrolling in LAT 310-1 Readings in Latin Literature: Sisters and Sisterhood in Roman Epic if this is your placement result. The instructor is Professor Francesca Tataranni. 
Continue with Greek by enrolling in GRK 201-1 New Testament if this is your placement result.   The instructor is Professor Abbe Walker, an expert language teacher and specialist in late antiquity. 
Continue with Greek by enrolling in GRK 301-1 Euripides' Medea if this is your placement result. The instructor is Professor Marianne Hopman.  In early 2015, the French Ministry of Culture awarded her a Chevalier dans l'Ordre des Palmes Académiques.
Winter and Spring 2023 Greek and Latin classes for first-year students:
You can begin Greek by enrolling in the Winter quarter in GRK 115-1 Accelerated Elementary Ancient and Biblical Greek. Yes, the first-year sequence is only two quarters long and starts in Winter. The instructor is Professor Ryan Platte. He won the 2020 Excellence in Foreign Language Teaching Award from the Weinberg College of Arts and Sciences and Office of the Provost.
Continue with LAT 101-2 and LAT 101-3 or LAT 201-2 and LAT 201-3 in Winter and Spring as placed. If you have questions, contact Professor Tataranni. 
Continue with GRK 115-2 or GRK 201-2 and GRK 201-3, as appropriate. If you have questions, contact Professor Platte.
More About the Classics Majors and Minors
Classics majors tailor their studies to suit their particular interests. They choose from classes on various topics covering Greece and Rome and their later reception and commit to achieving competence in at least one ancient language (Greek or Latin). Majors engage evidence directly, not always in translation. Some choose to do both languages. Majors also do a unique methods course to prepare them to undertake their own research in seminars, thesis writing, or as a member of a collaborative faculty-led research project.  It includes training in digital tools. 
Classics minors complete one of three options: a set of courses of their own choosing that do not include language study (Classics study minor), a set that includes study in Latin (Latin minor), and a set that includes study in Greek (Greek minor).  
More information about the major and minor requirements. 
Study Abroad Opportunities
Study abroad can be part of your classics study. Northwestern sponsors a credit-bearing Summer program based in Athens open to majors, minors, and others. It includes a seminar with a Northwestern faculty member, visits to museums, theater, and archaeological sites, and a seminar on modern Greek history and culture staffed by a professor from a Greek university. There are many other opportunities in various countries as well. Work on a dig in any number of places! Do seminars as an undergrad fellow at a research institute. Improve your Latin or Greek in an inspiring overseas setting. Study ancient drama at Oxford and Epidaurus. A department study abroad advisor can help you find a program that fits your goals.  Study Abroad Information
Life in the Classics Department
Majors and minors
also enjoy a range of extra-curricular activities organized by the undergraduates themselves and the
Classics Undergraduate Advisory Board
(e.g., trips to museums, theater outings, marathon readings of epic, film screenings, and parties). The Department supports student-initiated projects.
LANGUAGE PLACEMENT AND AP CREDITS

Placement in Latin
Without specific written permission of the Classics Department, you may not enroll in a class at a lower level than the one in which you were placed; should you do so, you will not be given credit for the course.
If you took the AP Latin exam in high school, you should follow the appropriate option below:
If you have a score of 5 on the AP Latin exam, you have satisfied the proficiency requirement and we encourage you to continue the study of Latin at Northwestern. To enroll in 300-level Latin courses you should contact the Director of Latin Instruction, Prof. Francesca Tataranni (f-tataranni@northwestern.edu)
If you have a score of 4 on the AP Latin exam, you should not take the online placement test. With a score of 4, you will need one more course (Latin 201-3, offered in Spring quarter only) to satisfy the language proficiency requirement.
If you scored a 3 or lower on the AP Latin exam, you must take the online Latin placement test (see instructions below).
If you have had previous study in Latin, but did not take the AP Latin exam, you must take the on-line Latin placement test  (see instructions below in #3).
Online Latin Placement Exam.  It is expected that you take the exam before arriving on campus in the fall. The exam is given only online at Online Language Placement Tests website.
You can find your exam results posted at the Online Language Placement Tests Results page.
Placement in Ancient Greek
If you have previous study in Ancient Greek, please arrange for placement by contacting the Director of Greek Instruction, Prof. Ryan Platte (ryan.platte@northwestern.edu).