Professor Platte receives the 2020 Excellence in Foreign Language Teaching Award
July 8, 2021
The Classics Department congratulates Prof. Platte on receiving the 2020 Excellence in Foreign Language Teaching Award. Each year, the Weinberg College of Arts and Sciences and the Office of the Provost recognize member's of the College's tenure-line and teaching-track faculty for excellence in teaching.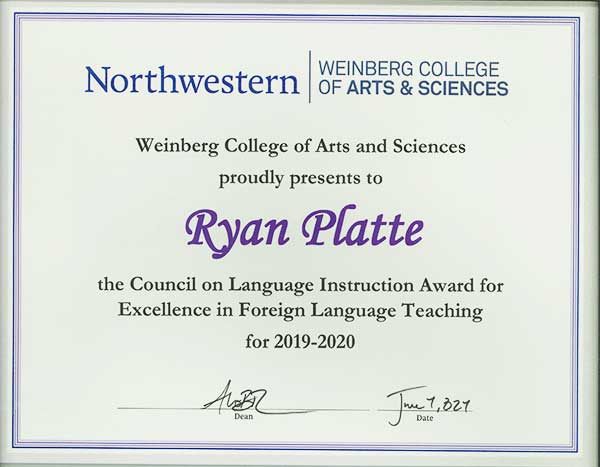 Receiving the Council on Language Instruction (CLI) Award for Excellence in Foreign Language Teaching was no small feat. All Northwestern language teachers are eligible, yet only one can be the recipient. Moreover, the Award is given out by other language teachers, with former winners sitting on the Award Committee. The judges are thus the most exacting on campus, applying the highest standards to applicant dossiers, which include letters of support from colleagues and students. 
The criteria for nomination ask that an instructor: 
creates and maintains a learning environment that allows students to find a personal connection to the target language and culture;

 

experiments with different technologies, techniques and methodologies that effectively engage the students in and outside of class;

 

inspires students in their studies of language, literature and culture and has a reputation for helping students to achieve;

 

is known for sharing teaching ideas, materials and strategies;

 

maintains a positive and supportive demeanor that helps to create community within the department;

 

is always ready to help on projects in the department, college or university;

 

sets high goals and works tirelessly to achieve them.

 
Evidently, Prof. Platte not just met these criteria but exceeded them. The Classics Department offers him its warmest congratulations on his achievement!  
Back to top