Nick Winters
Assistant Professor of Classics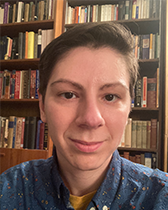 847-491-8042
Kresge Hall Room 4367
Nick Winters (PhD Duke University) is a classicist and former physicist specializing in ancient mathematics and science. His dissertation, "Schools of Greek Mathematical Practice" (2020), proposed a major revision to the history of Greek mathematics, organizing ancient texts into networks of information transmission and methodology. He spent 2022-23 as a fellow at the American School of Classical Studies st Athens.
Outside of mathematics, Dr. Winters' work has included projects in ancient medicine, music, engineering, and practical sciences such as surveying and accounting, weaving and textile arts, timekeeping, and navigation. Beyond the ancient sciences, Dr. Winters teaches courses on the history of books and textual scholarship, ancient gender and sexuality, and Greek and Roman historiography. He is an editor of the undergraduate research journal
Philomathes
and a member of the Hellenic Institute for Cultural Diplomacy and the Trans in Classics organization.